At the TR Miller Track and Field meet on Thursday, April 8th, the Knights Track Team set 2 new school records and placed in several events.
Sophomore, Jeremiah Cobb came in 1st place in the Boys 100m dash and set a new school record with a time of 10.96. Cobb also placed 1st in the Boys 200m dash. Sophmore, Matthew Galvin set another school record in the Boy's Triple Jump with a distance of 40-09.50 which was good for 2nd place.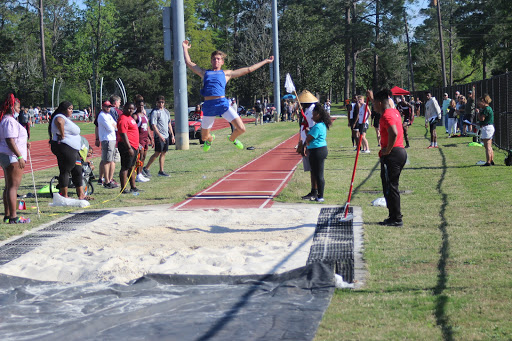 Matthew Galvin
Other top finishers for the boys Knights were Titus Franklin who placed 2nd in the 400m dash, Sam Leslie who placed 5th in the 400m dash and 2nd in the 1600m, Andres Lemuz who placed 4th in the 800m, Kylon Griffin who placed 4th in the 110m hurdles, and Shawn Sponsler who placed 1st in high jump and 2nd in javelin. Our top girls finisher was Ann Cobb who finished 5th in the 100m dash, 3rd in the 200m dash, and 1st in the 400m dash.