The Montgomery Catholic Knights are the student-athletes who represent our school on the field, on the court, and in the classroom. Our programs give students the opportunity to practice Christian values that serve as the basis of Catholic education and emphasize good sportsmanship, teamwork, and physical fitness. Our athletics programs help us to serve the whole student, and we are proud of our Knights. Montgomery Catholic features a full athletic program for boys and girls in grades 7-12, sanctioned by the Alabama High School Athletic Association (AHSAA).
Montgomery Catholic Athletic Teams
Montgomery Catholic oversees a combined sports program for grades 7-12.
We offer the following programs:
Fall Sports
Football
Girl's Flag Football
Volleyball
Cross Country
Cheerleading
Winter Sports
Basketball
Cheerleading
Indoor Track
Wrestling
Spring Sports
Baseball
Soccer
Softball
Golf
Tennis
Outdoor Track
School and community programs are offered for elementary students in grades K-6, including football, cheerleading, AYSO Soccer, Hoops League Basketball, and Girls on the Run. See parent representatives at registration for more information about these activities or contact our Athletic office.
Montgomery Catholic is a proud partner of Encore Rehab.
For questions about our 7-12 program, contact Athletic Director Daniel Veres.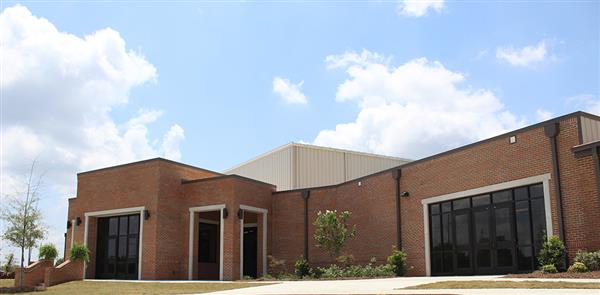 Montgomery Catholic Athletics Facility
On February 12, 2019, Montgomery Catholic bid one last "Hoop-Rah" to the Father Pat Delahunty Memorial Gymnasium, a building that has hosted countless ball games, pep rallies, and other school events in its 51-year history. While the Fr. Delahunty Gym has faithfully served the school during this time, Montgomery Catholic has outgrown its capacity for the gym to house the various athletics teams and the fans who come to support them.
On August 11, 2019, we proudly unveiled our new 33,000 square foot athletic complex featuring locker rooms for both boys and girls, a state-of-the-art weight training and conditioning center, an on-site athletic training room, and a fully-equipped concession stand. Additionally, the building features offices for the coaching staff, a multi-purpose area for reviewing sports film, a large meeting room, and hosting space for various school events.
At the heart of the new gym is the Partners In Catholic Education (PICE) Knights Arena, the new home of our court athletics. The PICE Knights Arena features two regulation-sized basketball courts and seating for over 850 spectators. The large arena floorplan will allow for practices for multiple teams and sports to be held concurrently and is large enough to host widely-attended events, like graduation. We are grateful to the entire Montgomery community for coming together to bring a dream to reality and for supporting the mission of Montgomery Catholic Preparatory School.