Harbin Award
Valedictorian
Ideal Graduate
Leader of the Year
Harbin Award
Charlie Harbin Distinguished Service Award
The Charlie Harbin Distinguished Service Award was established by the Harbin family in 1997 and is presented annually. Its purpose is to recognize those selfless individuals who have significantly served Montgomery Catholic Preparatory School and exemplified its values in their lives. The award honors the memory of Charles T. Harbin, Jr., a 1946 alumnus of St. Mary of Loretto and a great supporter of Montgomery Catholic.
Click on the links below to download the award guidelines and a nomination form to submit a nomination for this distinguished award.
The deadline for nominations is January 5.
The award will be bestowed Annually at Monte Carlo Night or another appropriate time.
---
Submit Online
---
About Charlie
Charlie Harbin was appropriately dubbed Loretto's #1 alumnus by our beloved Father Pat Delahunty back in the late forties.  No one would argue that Charlie was #1.  With the enthusiasm of Charlie Harbin, football got its start at Loretto, our original school.  He was Fr. Pat's right hand man, out seeking financial and physical support for the task of organizing a sports program at the quiet little convent school on Lawrence Street; a program they had no idea would be so successful and mean so much to the school and its supporters–even today.
If you have ever participated in football or any organized sport at Montgomery Catholic, or even if you be one of the many who enjoyed the thrill as a spectator over the years, you owe a great deal of gratitude to Charlie Harbin.  Without his energy and loyalty, it might never have happened.  In addition to playing on our first football team, he was the first team manager and shouldered such responsibilities as publicity, game scheduling, recruiting players, and much more.
Charlie graduated from Loretto in 1946.  He continued to support everything at Loretto and Catholic, helping with fundraisers, the Booster Club, publicity, and was eventually instrumental in the construction of our Fr. Pat Delahunty Gymnasium.
Charlie passed away in 1994.  He and his wife, Jean, had six children who are still avid supporters of Montgomery Catholic.
For questions, call Vicki Dickson at (334) 272-7221, ext. 302 or vdickson@montgomerycatholic.org.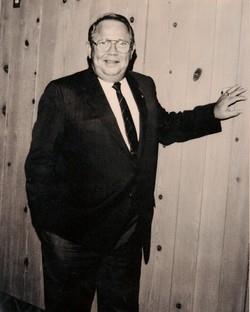 Harbin Award Recipients
1997 – Leonard J. Mrotek
1998 – Margaret Olive Jones
1999 – Edward P. Clark
2000 – Marty & Bebe Taylor
2001-  Dottie A. Dean.
2002 – "Goose" DeLongchamp
2003 – Rod & Anne Ceasar
2004 – Bill & Marian Saliski
2005 – Jeff Downes
2006 – David & Jeanne Barranco
2007 – Nora Cammack
2008 – Dennis & Karen Weber
2009 – Chip & Lisa Vercelli
2010 – Bill & Debbie Barranco
2011 – Barr & Cappy Younker
2012 – Liz Sutton & Jerry Lopez
2013 – Jack Galassini
2014 – Gaylon & Mary McAlpine
2015 – Marty Rupert Huett
2016 – Kevin Ryan
2017 – Ann Karst
2018 – Jack Lauer
2019 – Pat & Casie McGinn
2020 – Linda Belsterling Anderson
2021 – Tammy Hayes
2022 – John & Lisa Sadie
Valedictorian
Ideal Graduate
Leader of the Year