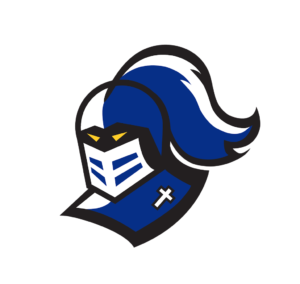 It is with a heavy heart that we share today our Head Football and Baseball Coach, Aubrey Blackwell, has accepted the position as Head Football Coach at Benjamin Russell High School in Alexander City (pending board approval Wednesday night). While we are sad for ourselves and our Montgomery Catholic community, we are happy for Coach Blackwell and his family.
Coach Blackwell began his time at Montgomery Catholic as head football coach in 2015. In his six year tenure with MCPS, he has a record of 54 wins – 19 loses; he led our Knights to the playoffs 5 times, including our first trip to the State Championship game, and he leaves Montgomery Catholic tied for the winningest coach in MCPS football history.
On news of the coaching change, Montgomery Catholic Athletic Director Daniel Veres had the following to share. "I would like to thank Coach Blackwell for all he has meant to Montgomery Catholic over the last 6 years. Everyone knows he is a fantastic football coach, but beyond that, he is the kind of man every single parent in this world would want to mentor their student. He is a great man, a great coach, and a great friend. I wish him all the best in the next step in his coaching journey."
We would like to thank Coach Blackwell and his wife Brandi for their years of unwavering support for Montgomery Catholic Preparatory School. Montgomery Catholic President, Justin Castanza, shared "Aubrey Blackwell has made a lasting impact on our students, our community, and our athletic program. Our best wishes accompany Coach Blackwell as he makes the move to 6A football, but we remain prepared to compete at the highest level in the state and poised to hire an excellent coaching staff for next season and beyond. Our student athletes and parents know what Montgomery Catholic is capable of, and with new leadership this spring, we are all excited to look to the future."
Montgomery Catholic has begun the professional search to hire a new head coach.