The Montgomery Catholic Knights recently had an exciting football game that undoubtedly made school history. On Thursday, December third, the Knights took on the Fyffe Red Devils in the 3A football state championship. Montgomery Catholic Preparatory School was founded in 1873 by the Sisters of Loretto, and since fielding their first team in 1945, the team had not been to a state championship. An exciting feat for the Knights, who had a 12-3 record and the best season in school history. Pre-season started in June, and the players were working out hard throughout the summer. Because the team had to work out and practice with masks and social distancing when possible, they were presented with a set of challenges they have never faced before. These students, however, rose to the challenge and saw these hurdles as ways to grow as a team. Judd Osten, a senior kicker, said, "The team was a complete brotherhood; we always took care of the man to our right and our left no matter who it was. We learned to push each other at practice to grow closer as a team and improve overall."
The championship game took place in Bryant-Denny Stadium at the University of Alabama. Osten was able to provide some remarks on this experience, "The atmosphere was unlike anywhere else I've played football." Fyffe was a tough competitor having now won five of the last seven state championships along with being on a forty-five game win streak. The Knights worked hard to prepare to face them. While talking to another team member, offensive tackle Eli Starrett, he told us that "To make it to the championship, we had to work together as a team and sacrifice for each other. It was a grind every day getting out there, but we had a goal that kept us motivated. While we fell short in the end, we can hold our heads high knowing we left it all out on the field."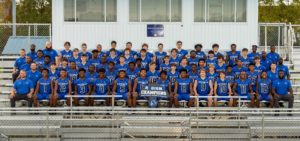 As Starrett mentioned, although the Knights were not victorious, they played an amazing game. The Knights started impressively with a long kick return from DJ Carter followed by a Judd Osten field goal. This continued throughout the first quarter as the Knights got out to a quick 16-0 lead with two touchdown passes from Caleb McCreary to Myles Butler. Things eventually settled down when the Knights took a 16-3 lead into halftime. As time ticked down in the fourth quarter, Fyffe's long, grueling drives took their toll as they punched the ball in for a 21-16 lead. However, the Knights found themselves with the ball and a chance. They moved the ball down the field with a quick series of passes, and with time expiring, McCreary threw a deep pass to the endzone that fell incomplete, ending the Knights' season.
While it was not the result the Montgomery Catholic family had hoped for, it was still a season, and game, that everyone will remember for countless years to come. The seniors, in particular, felt grateful for this opportunity. Osten remarked, "Throughout the season, we were told that the next game could be our last. And for the seniors, we got to play 15 games, a full season. No one thought we'd have a full season. On top of all that, we got to play in a state championship. That's a great way to finish a senior season." The Knights achieved their most wins in a season, a new record for points scored, and their first trip to the State championship game. Despite the challenges they were presented with this season, Catholic solidified themselves as contenders, and we can expect to see them back for that title soon.
"I am so humbled by the incredible effort our team, coaches, administrators, teachers, band, cheer, and entire Catholic community gave us this year. This team set a new standard for success that will continue to grow here at MCPS. This group made so many sacrifices and dedicated themselves to their goal for playing for a state championship and never wavered. They fought and worked their hardest for this and I am so proud to be their football coach." said Head Coach Aubrey Blackwell.
Written by Gracie Barranco (senior) in Broadcasting Class