It is with great pleasure that we announce Kirk Johnson as the new Head Football Coach at Montgomery Catholic Preparatory School. No stranger to the Montgomery Catholic football community, Coach Johnson moves from Assistant Head Coach and Defensive Coordinator to the head position in his seventh year with the Knights.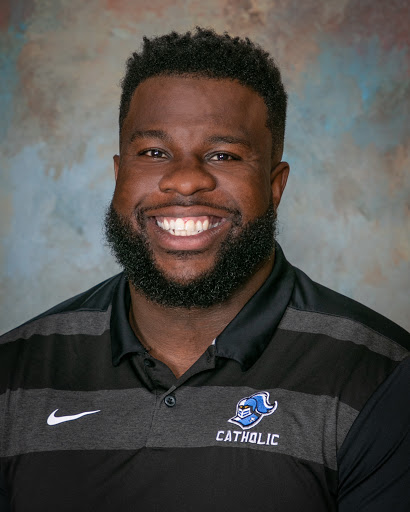 In this time of coaching transition, Athletic Director Daniel Veres was proud to share,
"Kirk Johnson will be the next head coach at Montgomery Catholic. Kirk's passion for the kids at Montgomery Catholic is unmatched, and I can't wait to see what this new chapter of Knights football holds for us all."
"Montgomery Catholic has built a football and athletic program that focuses on helping student athletes become the best versions of themselves, both on and off the field. Coach Kirk Johnson is committed to our school and our community, not just on the football field, but in all things Montgomery Catholic. We are poised for another championship caliber season as we continue to raise the bar and elevate expectations through a seamless transition," explained Montgomery Catholic President, Justin Castanza.
Coach Johnson is such an asset to our Montgomery Catholic family. We look forward to his leadership for our athletes and his continued involvement in our community.
"I am extremely honored and blessed to accept the position as Head Football Coach at Montgomery Catholic Preparatory School. I would like to thank
Daniel Veres,
Justin Castanza, and Eileen Aaron for this amazing opportunity. I would also like to thank Aubrey Blackwell for his mentorship and the foundation that he helped lay here at Montgomery Catholic. It's not often that you get the opportunity in your first head coaching job to take over a State Championship caliber football team. I look forward to the opportunity to expand on what has been built and to continue to lead this program to the next level. My wife, Meghan, and I are extremely grateful to be a part of this MCPS family; we will keep you all in our prayers and ask that you do the same for us," stated Coach Johnson.