For the first time in Montgomery Catholic Preparatory School's 149 year history, the entire school gathered together at the Middle and High School Campus for a school wide Mass on Friday, March 24, 2023. It was a day of joining together in worship, service to our community, and in fellowship with each other.
"Having all students, faculty, and staff from four campuses together for Mass is incredibly special. We were excited to be able to have all of our students in one place, for one Mass, united in one mission," says Montgomery Catholic Preparatory School President, Justin Castanza. "Our vision this year has been Called to Sainthood, and this day brought that vision to life as we worshipped, played, and served together as a school community."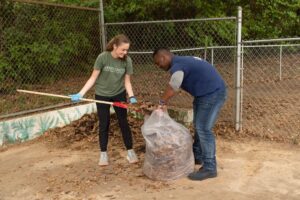 Over 1,000 people, including 800 students in K3 through 12th grade, 100 faculty and staff, and 100 volunteers joined together in worship to begin the day. Following Mass, Middle and High School students participated in their Annual Works of Mercy Day. High School students went out into the community to volunteer at various service locations, and Middle School students spent their morning performing acts of service around the school. Service locations for High School students included the YMCA of Greater Montgomery, Hope Inspired Ministries, Life on Wheels, Mercy House, Father Parcell's Home at City of St. Jude, Montgomery Zoo, Catholic Social Services, and more.
Elementary students from both St. Bede Campus and Holy Spirit Campus enjoyed their first ever joint field day on the Middle and High School Campus.