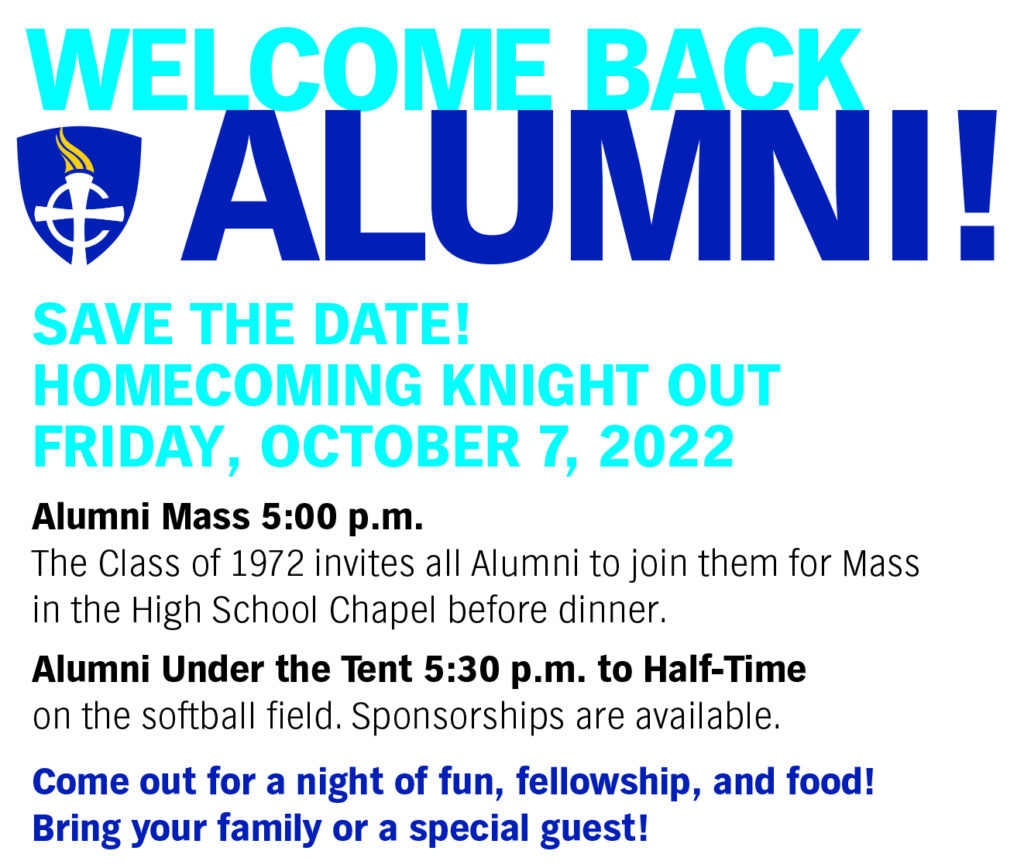 RSVP to our Homecoming Alumni Under the Tent Event!
Buy Tickets to the Game Today
Purchase Tickets online at GoFan.co using the link below!
THANK YOU to our Homecoming Sponsors!
Little Donkey Mexican Restaurant
Ryan Beesley Realtor – REMAX Tri-Star
Capital Container
The Paul Barkhurst, Jr. Family '82
Sharon Licari Chambless '77
Foster & Vicki Downes '91 Dickson
Allan & Julie Schultz '00 Emerson
Jean Graffagnini '78
Rick & Marty Huett '72
Elizabeth Karst '12
Pete & Carol Peterson '65
Erin Veres '99 Reese
Laurel Crawford Smith '02
Patti Mungenast Smith '70
Andy Telofski '11
John '72 & Beth Veres
---
---

Hello and welcome back to your Alma Mater! We are proud of the thousands of alumni who make up our St. Mary of Loretto/Montgomery Catholic Alumni Association. We invite you to come back and be involved. Montgomery Catholic has a great history and our future is brighter than ever!
It truly is Great to be a Catholic Knight!
Alumni Association Leadership
Chairman: Brennan Parker, Class of 2008
Secretary: Rebecca Hails Holtsford, Class of 2009
Treasurer: Austin Barranco, Class of 2009
Have Questions?
Contact the Vicki Dickson at vdickson@montgomerycatholic.org.
---
Tell Us Your Alumni Story
Since 1873, your alma mater has been blessed with the support of thousands of alumni! You are a big part of our history, and we can not thank you enough for your continued support and love over the years!
We would love to "Tell Your Story" on our website and social media. We love our Alumni and are so proud of all of your accomplishments. Thank you for taking the time to fill out this form and telling us your story.
---
Reunion Planning?
Thinking about planning your class reunion? To obtain an updated list of your classmates, arrange a tour or for general information on planning, email Vicki Downes Dickson '91, Director of Development and Alumni Relations.
Vicki Dickson
Director of Development & Alumni Relations