Montgomery Catholic Preparatory School held its 2nd Annual Scholarship Breakfast on Tuesday, May 2, 2023 at the Wynlakes Country Club ballroom. This year we awarded 23 scholarships to 37 current & new students for the 2023-2024 academic year. A total of $115,000 in Scholarships was awarded including 3 college scholarships for outgoing seniors, 21 High School students, 5 Middle School students, and 8 Elementary Students. Montgomery Catholic is proud to award individual scholarships to MCPS students annually.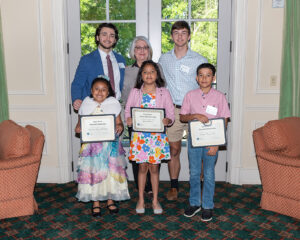 Montgomery Catholic Scholarships
The Legacy Scholarship
Padre Pio Endowed Scholarship
Barry & Bob Robichaux Memorial Scholarship
Anna and Harold Paige Scholarship
Larry Russo Memorial Scholarship
Richard and Reba Foley Scholarship
Anne Ceasar Endowed Scholarship (ACES)
Coach Ralph Furlong Scholarship
Frye, Arban, Ortega Scholarship
The Caitlyn Marianne Wiggins '08 Memorial Scholarship
Norma R. Mungenast Endowed Scholarship
Carole Skoneki Clark Endowed Scholarship
Helen Faircloth Gross & Charles J. "C.J." Gross Endowed Scholarship
JJ Bednarz, Sr. Memorial Scholarship
Class of 2009 Juston Martin Memorial Scholarship
Dr. Tom Doyle Memorial Scholarship for Math & Science
Luke J. Whetstone, Class of 2018 Memorial Scholarship
Coach Wulf Koch Memorial Scholarship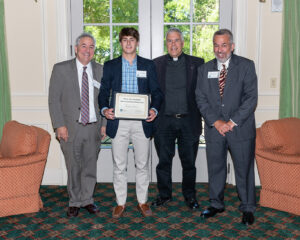 Scholarships for Graduating Seniors
Dottie Dean Memorial Alumni Association Scholarship
Anna "Anya" Cecile Bennett '18 Memorial Scholarship 
Benefactor Awarded Scholarships
Ben and Alice Tokarz Memorial Scholarship
Knights of Columbus Council 12150 Scholarship
Total Image Scholarship
Montgomery Catholic was blessed to award 3 new scholarships for the 2023-2024 school year. These scholarships were given in memory of Coach Wulf Koch, Luke J. Whetstone '18, and in honor of Richard & Reba Foley's belief and dedication to Catholic education.
Thank you to our Montgomery Catholic benefactors, Total Image and the Knights of Columbus Councils 12150 & 893 who generously donate scholarships to our students annually.